Zmysłowe obrazy na szkle
Zmysłowe obrazy na szkle to pomysł na dekorację każdej sypialni. Niektóre wzory mogą również sprawdzić się na ścianie salonu czy łazienki. Obrazy ze zmysłowym motywem naturalnie pasują na ścianę sypialni – pokoju, w których chcemy stworzyć intymny klimat. W zależności o gustów, proponujemy obrazy z delikatnymi, zmysłowymi motywami, takie na których wprowadzono delikatną nutkę erotyki aż po takie, na których zmysłowość i erotyka są zaznaczone nieco bardziej.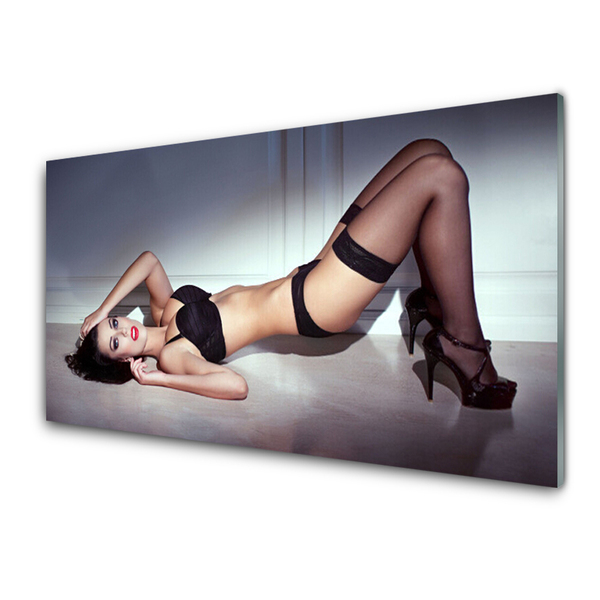 Obraz Szklany
Kobieta Erotyka Sexy
(#osh-nn-58750032)
rozmiar od: 100x50 cm
149.00 zł
wybierz rozmiar
Obrazy pełne zmysłowości - intymność, piękne ciała kobiet
Zmysłowe obrazy do sypialni są utrzymane w różnych barwach. Dzięki temu, niezależnie od gustu, każdy może dobrać odpowiedni obraz do swojej sypialni. Ci, którzy wolą czerń i biel znajdą wiele motywów, utrzymanych w takich właśnie barwach. Zwolennicy większej ilości kolorów również mogą wybierać spośród wielu obrazów, na których przewijają się kolory czerwieni czy fioletu.

Na zmysłowych obrazach na szkle dominują kobiece ciała pokazane w różnych ujęciach i różnym stylu. To w jaki sposób zostały pokazane, często zostawia miejsce na domysły i pole dla wyobraźni. Zmysłowa bielizna, namiętne usta i oczy to także motywy, które przewijają się wśród obrazów z nutką erotyki i zmysłowości.

Obrazy z elementem zmysłowości mogą stać się również elementem dekoracji innych pomieszczeń. W zależności od wybranego motywu można ozdobić nimi ściany łazienki, bowiem obrazy na szkle mogą bez problemu wisieć w pomieszczeniach, gdzie jest dużo wilgoci. Niektóre motywy są na tyle niewinne, że mogą służyć również jako obrazy na szkle do salonu, wszystko zależy od gustu.