Jak urządzić małą sypialnię? Sprawdź nasze pomysły!
Wprowadzasz się do mieszkania, w którym wielkie sny mają zostać zamknięte w wąskich ścianach? Bez nerwów! Podpowiemy Ci, jak urządzić małą sypialnię w niekonwencjonalnym stylu. Doradzimy, po co warto sięgnąć i czego zdecydowanie nie robić. Będzie krótko i treściwie – o zasypianiu podczas czytania nie ma mowy!
Jak urządzić sypialnię – dobre rady zawsze w cenie
Zastanawiając się, jak urządzić sypialnię, często nie zdajemy sobie sprawy z mocy koloru, który ma pojawić się na ścianach. A ten ma znaczenie! Kolory ścian, którymi mogą okrasić nowoczesną sypialnię w bloku lub większym domu to przede wszystkim wymienione poniżej typy.
Niebieski – kojarzący się z bezpieczeństwem i wprowadzający przyjemne uspokojenie. Trzeba jednak uważać na dobór odpowiednich odcieni – niebieski może bardzo ochłodzić wnętrze, a o "mrożeniu atmosfery" w sypialni raczej nikt nie chce słyszeć!
Biały – klasyczny, uniwersalny, zawsze modny i właściwy. Pasuje do wszystkich kolorów mebli i stawia kolorowe dodatki na pierwszym planie. Uwielbia minimalistyczne wnętrza, ale równie dobrze odnajduje się w klimacie boho. Jest ponadczasowy, ale też trudno utrzymać go w czystości!
Zielony – ostatnimi czasy zyskujący na popularności. Najczęściej sięgamy po butelkową odcień zieleni, łącząc ją z czernią i złotem. To piękne zestawienie, jednak polecamy je dla większych przestrzeni, w których często gości słońce. W przeciwnym razie możemy nadmiernie "obciążyć" pomieszczenie.
Różowy – bardzo dziewczęcy i słodki. Choć pomaga łagodzić stres i wpływa kojąco na duszę, trzeba sięgać po niego z należytą ostrożnością – zwłaszcza, jeśli w sypialni przebywać będzie także przedstawiciel męskiego świata!
Szary – jeden z najbardziej popularnych kolorów we współczesnych wnętrzach. I trudno się dziwić – jest elegancki i dość uniwersalny. Dobrze odnajduje się w zestawieniach z bielą oraz czarnymi meblami. Nie przeszkadzają mu barwne dodatki. Podobnie, jak w przypadku niebieskiego, decydujmy się raczej na jego cieplejsze odcienie. Dobrze też zestawiać szarość z bielą pozostałych ścian – zwłaszcza, jeśli chodzi o aranżację małej sypialni.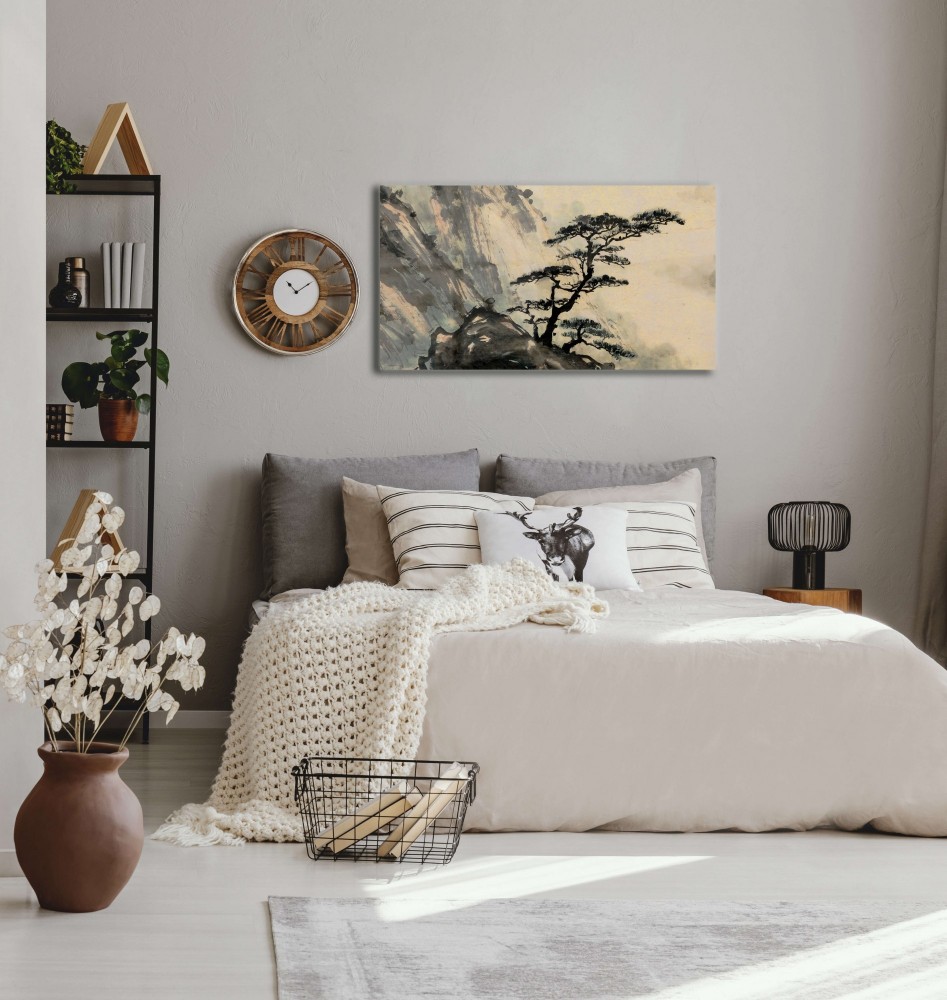 Kolory do małej sypialni powinny być raczej stonowane – polecamy przeżywające prawdziwe odrodzenie barwy ziemi oraz delikatne pastele. Dla fanów mocniejszych akcentów dobrym rozwiązaniem mogą okazać się na przykład fototapety, które uczynią wnętrze bardziej dynamicznym i oryginalnym, ale jednocześnie zestawione z jasnymi barwami nie zmniejszą optycznie pomieszczenia.
Szukając pomysłów na małą sypialnię, miejmy na uwadze także specyfikę naszego mieszkania. Jeżeli jest to pomieszczenie ciemne, zrezygnujmy z równie głębokich barw. Dodatkowo warto pobawić się formą i materiałami – na przykład połyskliwe fronty dobrze odbijają światło, czyniąc pomieszczenie jaśniejszym.
Mała sypialnia z szafą może zostać wyposażona w przesuwne drzwi z lustrami – to sprawdzony sposób na optyczne powiększenie pokoju oraz komfort naszego użytkowania – odchodzi kłopot miejsca na lustro wieszane na ścianie. A Ty zawsze wiesz, że dobrze wyglądasz! Po stosownym wprowadzeniu możemy przejść do konkretów...
Jak urządzić małą kwadratową sypialnię?
Stoisz na środku kwadratowego pomieszczenia, które ma się stać Twoją sypialnią marzeń i nie wiesz, co z nim zrobić? My już wiemy – i chętnie pomożemy! Przede wszystkim masz powody do radości – to pomieszczenie jest bardzo kształtne i dające wiele możliwości aranżacyjnych! Możesz praktycznie dowolnie stawiać łóżko i szafy, o ile przestrzeń na to pozwala.
Nasza propozycja? Twoja spokojna przystań w codzienności!
Kolory ścian małej kwadratowej sypialni malujemy na delikatny beż w ciepłym odcieniu. Ten kolor kocha białe futryny, drzwi oraz łóżko w tym samym kolorze. Możesz też zdecydować się na bardziej niekonwencjonalną fototapetę w odcieniu beżu z bardzo delikatnym, białym motywem. Zastosują ją na jednej ze ścian. Meble do małej sypialni nie muszą być sztampowe i bez charakteru – o nie! Proponujemy Ci na przykład nowoczesne łóżko z metalową, bardziej ozdobną ramą. Jest lekkie w formie wyrazu, a przy małych przestrzeniach to bardzo ważne!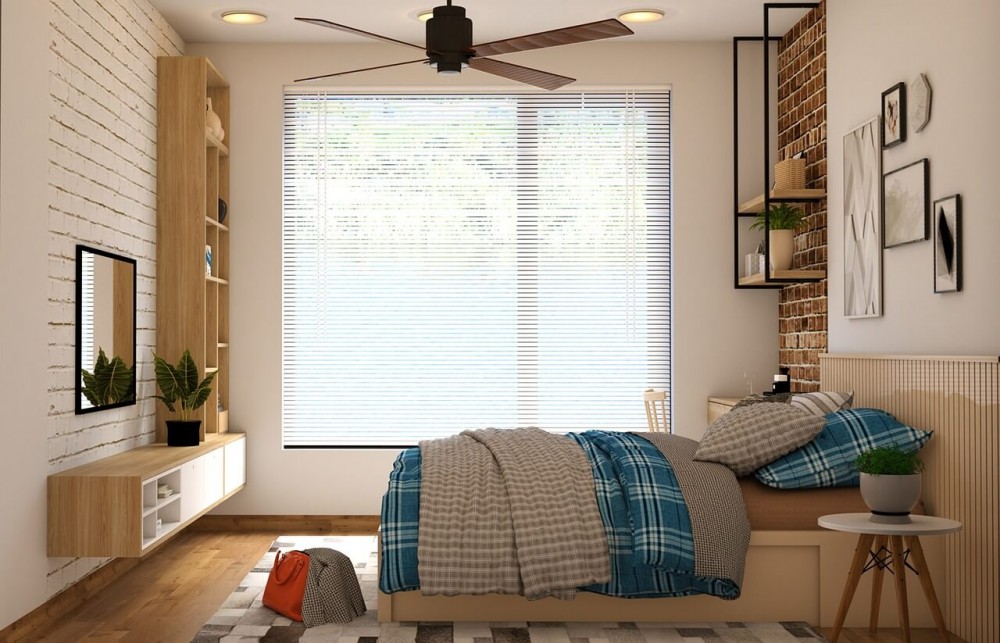 W celu kolorystycznego urozmaicenia możesz wybrać wyszukany kolor mebli – na przykład turkusową szafę (dobrze, jeśli uda Ci się dopasować do niej fronty w połysku) czy komodę. Jeśli aranżujesz małą sypialnię – ta ostatnia może pełnić również funkcję stoliczka nocnego!
Ściany w sypialni to dobre miejsce na plakaty i obrazy. Zawieszaj je w chmurze stworzonej na bazie różnych rozmiarów ramek lub zdecyduj się na minimalistyczne motywy roślinne na płótnie. Musowo w kolorach pasujących do tych wykorzystanych w pomieszczeniu – dla podtrzymania harmonijnego klimatu. Jeszcze tylko jutowy dywanik i gotowe!
Jak urządzić małą sypialnię w bloku w modnym stylu?
Mała sypialnia w bloku może okazać się Twoim wielkim królestwem nocnych sekretów i przyjemnych poranków. Zastanawiasz się, jak ją urządzić, by stała się ulubionym miejscem w Twoim lokum? Podpowiadamy.
Ściany malujemy na biało. O nudzie nie ma jednak mowy - nawet wąska sypialnia w bloku może zostać urządzona w niekonwencjonalny sposób. Nasza recepta? Ciekawa fototapeta! Romantyczce proponujemy urokliwe piwonie. Fanka bardziej minimalistycznych wzorów pewnie świetnie odnajdzie się w towarzystwie geometrii składającej się na plaster miodu. Dla wiecznie poszukujących najmodniejszych motywów – niezmiennie monstera kłania się w pas.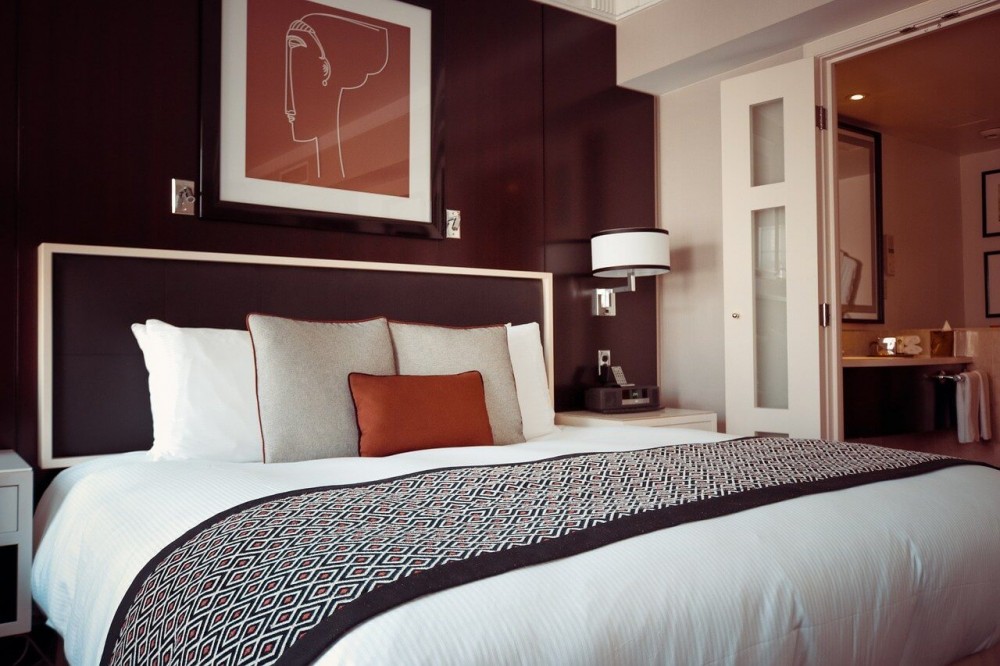 Jak widać, ściany w sypialni (inspiracje zaserwowane powyżej to kropla w morzu możliwości!) można ubierać w akcenty i na tej bazie całkowicie zmieniać ich charakter. Niech jednak zawsze będzie w Twoim stylu – to sposób na bezcenne poczucie komfortu. Nie jesteś przekonana, że fototapeta sprawdzi się w Twojej przestrzeni? Pozostań wierna kolorom ziemi, a jedną ze ścian udekoruj obrazem w stonowanych barwach.
Meble do małej sypialni – niezależnie od tego, na którą fototapetę się zdecydujesz, najlepiej utrzymać w jasnych kolorach – biel lub brzoza będą idealne. Monstera ma słabość do czerni – nie radzimy decydować się na dużą szafę w tym odcieniu – mogłaby obciążyć przestrzeń. Rama łóżka powinna jednak podołać zadaniu i pięknie kontrastować z ciemną zielenią liści.
W tej aranżacji małej sypialni sprawdzi się też złoto – baw się akcentami i doprawiaj przestrzeń szczyptą bogactwa.
Potem mieszkaj i śpij z przyjemnością!
---
Artykuły o podobnej tematyce:
URZĄDZAMY WYNAJMOWANE MIESZKANIE-POKÓJ STUDENTA: TANIO I SZYBKO
JAK ŁATWO I EFEKTOWNIE ODMIENIĆ ŁAZIENKĘ?
SPOSÓB NA ŁATWE ODNOWIENIE STARYCH DRZWI - DIY